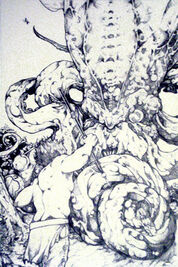 Oakwood Anthology is a graphic novel series first published in 2009. It is written and edited by Bryan DeWitt and illustrated by an international team of artists. Each artist typically draws one or two chapters from various points in the Oakwood timeline. Although often not directly related, each chapter features common themes and characters (such as RVK and Aome Lee) throughout.
Below is a list of all completed chapters of Oakwood Anthology Volume 1. They will soon be joined by the stories of Oakwood Anthology Volume 2. Production of all future chapters are determined by the balance of funding and storyline votes.
Pages in category "Oakwood Anthology"