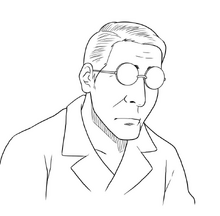 Dr. William Isaac was a scientist who rose to extreme prominence during the early 2000s.  A veritable renaissance man, he was responsible for inventing or innovating nearly all the major machine shop technology of the 21st century.  His work in the field of biotechnology led to many technological advances, most infamously the process of Quantum Enrichment.   
Dr. Isaac stated that: "Quantum Enrichment is only an outgrowth of my major field of research."  Although the details of this "major field" were top secret, his discoveries impacted every field of contemporary science. After G-Day, Dr. Isaac teamed with Thayer Corp, intent on redesigning every product and process to better help humanity adapt to the world which his discoveries had wrought. 
During this time, Dr. Isaac's used Thayer's vast resources to make significant contributions to humanity, among these faster computers, improved solar energy conversion, alternative medical techniques and integrated aquaculture systems.  He pursued the latter most vigorously.  His publicly stated opinion was that learning to correctly manage and apply microalgae was the most effective way to repair damage to the atmosphere. He claimed he had made a breakthrough in this field just before his unexplained disappearance.
Dr. Isaac's impact on humanity was huge. His research changed the face of modern science. He was a friend of General Stone and a role model to many, including the late, great Emerson Palmer.