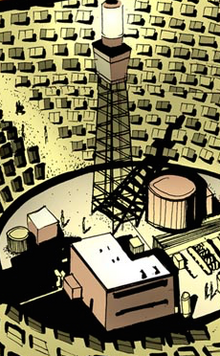 Hiawatha is a fictional city in the central plains of the United States. It is known for its vast solar panel farms which are responsible for powering Alpine and the surrounding communities. Most residents of Hiawatha are employees of Thayer-Thayer Corporation, maintaining and growing the solar panel fields. Among these employees are Gene Waterman, Ali Rugosa and Gorp Thunket.
Life in the fields is at times challenging. The heat can be intense and employees are strongly encouraged to wear company provided sunhats and take plenty of water breaks. Regular maintenance crew such as Gene and Ali are supervised by managers on horseback.
Hiawatha neighbors the township of El Cielo, reachable by the number 10 bus. Aome Lee was born in Hiawatha although she later moved to Alpine.