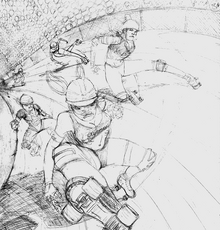 The Prisonstate Rollers are an offshoot of the Scottsdale Extreme League.  They are a roller derby squad that skates in the Scottsdale Arena, often during or in between gladiator matches.  The Prisonstate Rollers emerged from pieces of two dissolved squads: The Ghostninjas and the Rocktown Rollers.  
The line-up for the Rollers has fluctuated over the years but the legacy members include:
Jannacide (Rocktown)
Killnitzki (Rocktown)
Afro-Die-T (Rocktown)
Pussy Cleaver (Ghostninjas)
Whistlepig (Ghostninjas)
The Rocktown Rollers were a roller derby squad founded in the early 2000s.  Under the management of Troch, Rocktown gained state-wide acclaim, obliterating challenger after challenger.  In 2007, a nomadic squad called the Ghostninjas appeared in Rocktown to see which team was the best.  They scheduled a straight-up bout for January 3rd, 2008.      
During the bout, the Ghostninjas' captain Sackhacker was fatally injured by Jannacide, Rocktown's most notorious jammer.  During the second half of the bout, a power outage forced play to cease; however, the event managers were miraculously able to find some strobe lights and a sound system which they attached to a backup generator.  The Ninjas and Rocktown resumed play, skating a series of "dark jams" which were so dangerous and exciting that the crowd was galvanized to riot.  Funky's was destroyed and the outcome of the bout was never decided.
Following the death of their captain, the Ghostninjas vanished.  Concurrently, the Rollers were unable to secure a new venue to practice and bout in due to the widespread knowledge that Funky's had been destroyed due to their actions.  Team manager Troch would argue that it was in fact The Hype Machine's fault that Funky's was destroyed though his claims fell on deaf ears.
Following their failure to locate a new home, the Rocktown Rollers disbanded.  Never to be defeated or deterred, Troch therefore assembled a new team, combining the most skilled Rocktown skaters with a few of the remaining Ghostninjas.    This new squad followed the nomadic principles of their mother team, The Ghostninjas.  They copied the pattern of challenging (and annihilating) other teams on their home turf.  Without a proper home, this team was simply called the Rollers.   Although the Rollers briefly disbanded during the anarchy following G-Day and the spread of the creep, they soon reunited in the newly formed Convict State.    They founded the Prisonstate Derby League in the early days of the rouge nation; however, they did not get official state sponsorship until Gunshow challenged reigning SEXLeague champion Papercut to a death-match.  Although Gunshow lost his life, the Kiii honored his sacrifice by inviting the Rollers to become part of the arena's regular activities.