All artists are invited to submit images inspired by any part of the Oakwood Universe. These jobs are unpaid but they are not without benefit. As well as being a great way to showcase your style, every piece of accepted artwork grants the artist five to ten votes to use toward advancing the storyline. Please submit your artwork to the staff with "PRO BONO" in the subject line. We look forward to seeing what you come up with.
Suggestions
Edit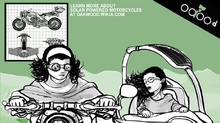 Not sure what to draw? You could try designing a custom vehicle or a building of Alpine. Character illustrations are encouraged but please be sure to request the file on your chosen character beforehand. We'll send you all images of the character this far to help ensure consistency. You could also design a cover image for a chapter in Oakwood Anthology. Or you could create an ad. Advertisements like the one on the right are particularly helpful because sharing these images on social media generates awareness about the project.
Here's a list of ongoing pro bono jobs. The best freebie submitted this season gets to name Papercut.